david
kracov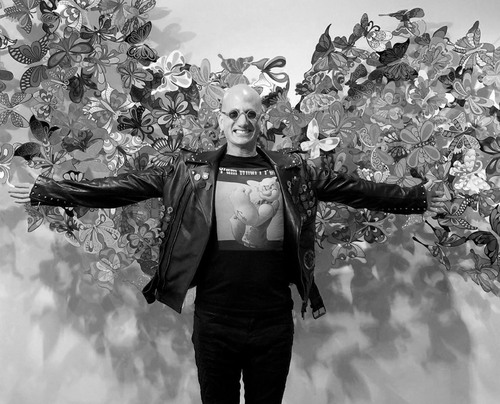 David Kracov was born in Boston, MA. in 1968. After winning first place in two categories of an art competition at the age of 12, David was one of the youngest artists in the world to have his paintings displayed in the Boston Museum of Fine Arts.

Later David studied at and received his degree from the prestigious Rhode Island School of Design. Now David resides in Florida with his dogs, Josie and Isis. Not to be outdone by David's recognition, Josie and Isis steal the spotlight whenever possible, by showing off their athletic skills on the treadmill.

Well, there they go again with stealing the limelight. Now back to the artist.

After receiving his degree in 1990, David packed his car, planned his route cross-country with a AAA trip-ticket and a pocket full of calling cards (for you younger collectors, this was years before cars had GPS and everyone had cell phones). He drove straight through a blizzard from Boston to Los Angeles. Without a job, David got an apartment and began knocking on the doors of all of the animation studios, where he eventually began his animation career for the Ralph Bakshi and Brad Pitt feature, Cool World. Yes, it's true, David's first feature animation experience was working with Brad Pitt for over a year.

David quickly moved up the ranks and within two months became head of the special effects department, creating and supervising all the visual effects for the movie. After production ended, David went on to work with Disney animation, Don Bluth animation, rich animation, as well as several other studios, working on such features as the "Lion King", "Aladdin", "Troll in Central Park", the "Pebble and the Penguin", "Thumbelina", and the "Swan Princess". During this time, David also worked for several special effects studios, creating visual effects for many feature films.

During his time as an animator, David began to experiment with different types of clay, and started sculpting the characters from those films he animated. Having no formal training, David quickly discovered that he had a passion for sculpting. On a Friday evening, in late April 1993, a gallery specializing in animation art had an opening of David's personal line of sculptures and one-of-a-kind chess sets.

As chance would have it, while waiting for reservations at a restaurant next door to the gallery, a buyer for the warner bros. studio stores decided to pass the time walking through the gallery. He was so impressed with the style and subject matter of David's sculptures that he immediately approached the gallery curator. Within days, David was commissioned to create a limited edition chess set for the Warner Bros Studio's stores.

The chess set was titled "Looney trails" and was produced in a limited edition of just 50 chess sets. Each chess piece was hand-sculpted by David using a special formulation of polymer clay created for him. The 50 chess sets required almost eight months to complete. All 50 sets were sold out within two days of their release.
not long after that David was contacted by Disney studios to create sculptures of individual characters as well as chess sets for their stores, galleries, theme parks and catalogue.

Today David Kracov is the exclusive licensed sculptor of all Warner Bros. Looney Tunes, Hanna-Barbera, and Tim Burton's corpse bride characters, as well as creating limited edition sculptures for the Disney studios. David's sculptures are included in the collections of several of Hollywood's elite entertainment names and organizations.

Recently, David was commissioned by the national holocaust museum to create a sculpture to pay tribute to all of the children who lost their lives in the Holocaust.

This work interests you ?
Do not hesitate to contact us for any inquiries.