bram
reijnders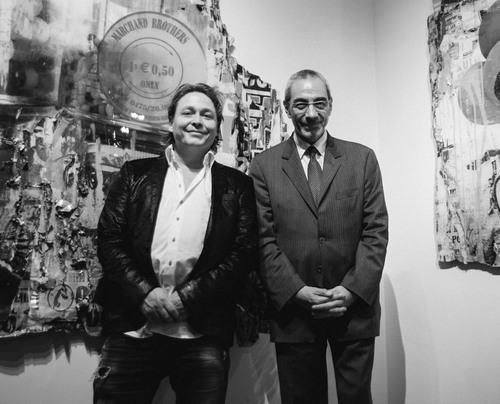 Artist Statement:
In a world where we get inundated with commercials, political promises, media hypes and self-promotion on social media, I often ask myself "What is really true?" If we had to believe every single message that confronts us, we would end up in a parallel universe where everything seems prettier than reality. And what do I make myself believe? In my recent works of art I show this universe by self-conscious seductive women competing for your attention and uninhibited promotion with extravagant poses, slogans, gold and shiny stuff. By mixing these with fiction elements I represent my "society ironic" passion for this ambivalent world of today of which I am definitively a product.

WHY NOT?
"The subtle and penetrating transformation of consumers into merchandise is the most important characteristic of our society. We live in liquid times, nothing is made to last".
Zygmunt Bauman defines the zeitgeist with these words. The works of Bram Reijnders capture this spirit and invite us to join his fascinating, although overwhelming, journey into liquid art.

Bram is a free spirit. A man in "search". Not necessarily for answers. A "question" is his motto: "Why not?". Mostly interested to experience, he takes Europe, India and Brazil as stages for his life act. This rebellious passion for life, excitement and beauty started long ago and now takes shape as works of art. In fact it started when young Bram, as an art lover, got ill after letting a painting go to another buyer and grew to changing his life and diving into the art world. First as an artist, then as dealer, he experienced all the aspects of the business, his artist´s lives and dilemmas. Always secretly painting and letting the search for beauty mature in his soul. Why not?

Art works as an intense catharsis. All the questions can be asked. All images, sensations and emotions, explode in a chaos of references. His ambition is not to translate reality into an aestethic statement, although in the end he does so. In a hyperconnected and accelerated world his search is to find a meaning to excess. Simplicity and complexity are not opposed, they live together. Artist Bram is never afraid of contradiction. It is present in every single attempt to picture the chaos and let beauty emerge from it. Why not?

Take a deep breath and be welcome to the rollercoaster.

The ideal woman invites our eyes in a seductive way, just to throw us into a tsunami of images. Suddenly our childhood icons emerge from memories of a lost past we cannot find anymore. Blue paint tries to escape from the canvas. Here is Donald Duck. Images get a little wasted. One might get dizzy, but again pink, white and baby blue gently connect tigers and dolphins in a sometimes gentle, sometimes aggressive way… we keep moving, nothing stands still.

Work evolves, gets material and embodies a "lovely little purple shiny Daisy". Yes, we need multiple adjectives to define this multifaceted experience. More is more, why not? Feels like touching this glittering creature. Feels like taking her home. And finally the artist reveals his goal. Open yourself, touch those hidden memories and FEEL. FEEL. Why not?

Bram's works capture this overwhelming quality of human experience in present times in such a spontaneous way… that can indeed be too much. Why not? This is the beginning of a great adventure for the eyes where more is more.
This work interests you ?
Do not hesitate to contact us for any inquiries.