mitro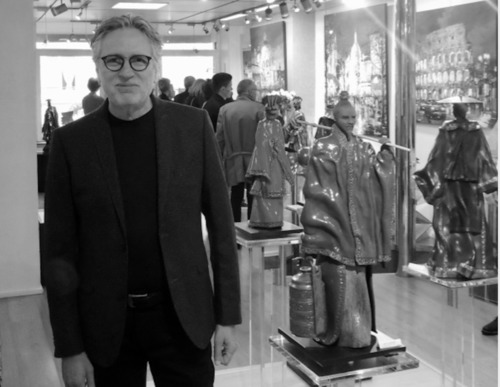 Mitro is a french painter born in Romania in 1957.
After discovering and nourishing his passion for art
since being a child, Mitro decided to integrate the
Fine Arts Academy of Bucharest. There he specialized
in graphic arts, painting,restoration and sculpture.
He was major of his promotion.Then he confirmed
his amazing talent by having many exhibitions held in
Romania.
Starting with 1982, he worked on restoring and
decorating various museums, churches and theatres
in his country. 1990 was a turning point for Mitro :
his wife Greta, a famous actress in Romania, was
invited to the Cannes Film Festival. They found
themselves falling in love with France and decided
to settle down. Mitro also discovered Venice during
this trip, an inspiring city for him as an artist.
Once settled in Normandy with his family, Mitro had to
work hard during the day as a graphic artist in Paris
and paint at night: he would do so till 1995 when he decided
to devote his time entirely to his craft.
In the 90's ten or so exhibitions put him in the limelight
as a solo artist in France, Belgium, Switzerland and
Germany. He won first prizes of the jury at group
exhibitions in France.
From 2000, things have accelerated with the recognition
of Mitro as one of the greatest painter of his time. Mitro turns
out to be a success story amongst national and international
clients.Since then, many exhibitions have been held
in France, Europe and the USA.
His paintings nowadays are shown in private collections
in the USA, Canada, Brasil, Mexico, South Africa,
Singapore, Japan, The United Arab Emirates, and
major European countries.
Mitro also participated in several Art fairs : Geneva
(Switzerland) Houston, Miami, Los Angeles.

This work interests you ?
Do not hesitate to contact us for any inquiries.