michael
kalish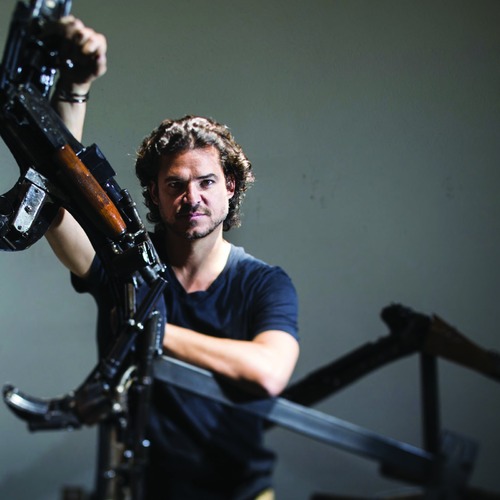 Currently based in Los Angeles, Michael Kalish gained recognition for his transformation of ordinary, everyday objects such as license plates and tailgates into meaningful works of art that reference a broad spectrum of American culture from political issues to cultural icons.

In 2014, Kalish started creating his most recent series of signed and numbered limited edition dimensional wall sculptures, standing sculptures, etc. The dimensional wall sculptures are created with layered laser cut aluminum or colored acrylic with depths ranging from 5 to 12 inches deep.

One of his most daring and bold expressions of the force of nature known as love, Kalish created "THE ART OF FINDING LOVE", a 20 foot x 6 foot x 6 foot interactive sculpture, which debuted in Los Angeles and then graced the entrance to Context Art Miami in 2017 and the LA Art Show in 2018. Kalish has designed this contemporary sculpture so that the viewer must find the exact vantage point where the sculpture is no longer abstract and "Love" literally comes into focus. This led Kalish to create a series of seven foot tall vertical versions of this sculpture in a variety of colors, including chrome, brushed gold, red, and chrome and red.

Kalish also created "reALIze", a large-scale multi-dimensional Muhammad Ali sculpture situated in downtown Los Angeles in 2011. The monument is larger than life, as is Ali's legacy: an appropriate testament to the essence for the legend the world has come to know, simply, as "The Greatest." The breath-taking effect is an enormous, 360-degree, two-story structure composed of five miles of stainless steel cables, two miles of aluminum tubing, and 1300 boxing speed bags.

Kalish has been the featured in the NY Times, The ARTnews Review, Wired Magazine, Time Magazine, The LA Times Magazine, People Magazine, Hollywood Life Magazine, US Weekly, American Way Magazine, Elle Magazine, Art in America and USA Today. He has also made TV appearances on CBS Sunday Morning and CNN's "Route to the Top".and hosted Discovery Channel's "Final Offer" TV series. Kalish has had several museum exhibitions and his work is in countless prominent public and private art collections around the world. Collections include major NY private collections, the US Embassy in Moscow, Ford Motor Company Collection, Coca-Cola Corporation Collection and many more.

This work interests you ?
Do not hesitate to contact us for any inquiries.