ligismond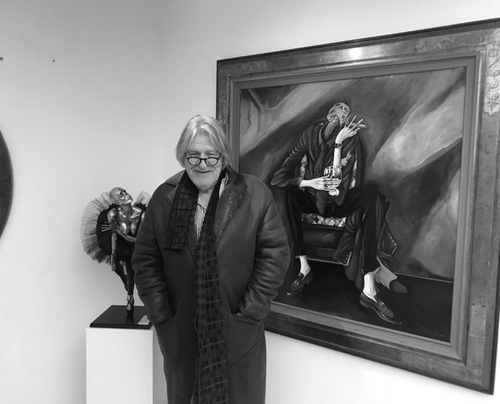 He is a really unconventional artist. A clear-cut
personality fi lled with humanity. His works are in his
image, bright red. Of French origin, Thierry Leloup,
under the name of Ligismond as an artist, travelled a
lot and painted a great deal before he settled down
with his wife – from Valais – in the region a year ago.
Now he lives in Chermignon, where he welcomes
his friends, and works in Crans in his gallery-studio,
which he opened last winter. New surroundings are
guaranteed when you go in; the artist prefers reds
and blacks, the stage, the show, fresh, tormented
painting that sometimes brings to mind the German
expressionists. Figurative painting with sure strokes,
numerous clowns with elastic limbs, mad musicians,
darkly humorous portraits and many bronzes.
This ex-restaurant owner exhibits a great deal, in Geneva,
in nearby France and in St-Tropez, in Valence and in
Shanghai. He is a generous and out of the ordinary
epicurean. Of course, as he says, it is not the kind of
decoration that you would choose to go with the colour
of your sofa. "Your mind needs to be made up when you
hang one of my works on your wall!" delights the artist.
His clients always come back; they are acquainted with
each other and share the same taste for a colourful life.
This work interests you ?
Do not hesitate to contact us for any inquiries.