dorit
levin-stein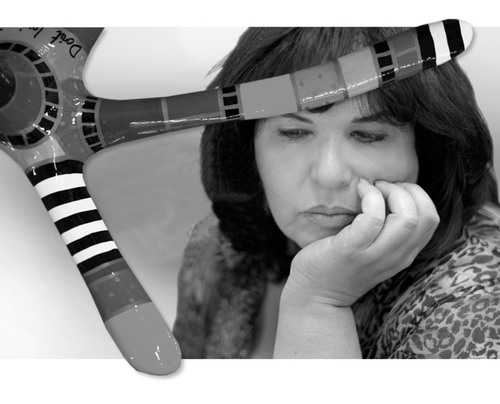 Dorit was born in Haifa, Israel in 1956. She graduated from the Technion (Haifa) in 1978 with a degree in graphic design, majoring in illustration. Dorit studied painting and sculpture for five years at the Avni Institute of Art in Tel Aviv, where she excelled in drawing. She completed her art studies at the Art Academy of Ramat Hasharon. From 1985 to1988, she taught art at the Avni Institute. In 1988, she was awarded a prize for excellence by the Soho Gallery in New York. Dorit has been a member of the Painters and Sculptors Association of Tel Aviv since 1989. She has always enjoyed teaching, and has taught sculpture and painting to women at her own studio in Tel Aviv since the 1980s. Among her more recent projects was a sculpting class that she gave to 300 children in Lindsay, California, culminating in a month-long exhibit of sculptures produced by the children based on her techniques.
Dorit's work can be found in private collections around the world, and is exhibited in galleries in France, Holland, Switzerland, the U.S. and Israel. Since 1996, she has been represented exclusively by Eden Fine Art, owned by Cathia and Mickey Klimovsky. Dorit also creates commissioned works in different sizes and materials for indoor and outdoor settings. At present, she is working on a series of eight monumental outdoor sculptures for the Holon Municipality based on the classic Israeli children's book "Where is Pluto?" by Lea Goldberg.
Viewing Dorit Levinstein's oeuvre, we are invited to step into her universe of forms, figures, and colors. Her spare, elegant sculptures seem to giggle with delight as if tickled, then stretch out with an exquisite elasticity to form their position in space. The statues derive their volume from a continuous virtuosic line alluding to human figures, animals, flowers, and ordinary domestic objects. Each of the twirling figures is painted in vivid colors, creating rhythmic patterns that regularly repeat themselves like variations on a well-loved tune. Visiting a space inhabited by all these colorful animated objects is a sensual, exhilarating adventure. Simply put, Dorit's art makes you happy!
Shape and color combine to infuse Dorit's work with boundless joy. The childlike look of the sculptures derives from a very conscious process of introspection and study on the part of a magnetic and stimulating personality.

Yet despite its naïve appearance and apparent simplicity, the work is the result of a creative and sophisticated process. To master these lean and airy figures, one needs the skill and dexterity of a professional dancer who practices daily to perform the seemingly effortless pirouette. With their playful, humorous look, Dorit's sculptures are the product of a quest for a unique language that poses questions from the realms of sculpture and painting alike. While the use of a line "drawn" in space to express movement and continuity would seem to be a sculptural element, the color and pattern that flatten and break the form of the image tend to be a painterly subject. Both topics coincide in Dorit's work.

Trained as a graphic arts designer at the Technion and the Avni Institute of Art in Israel, Dorit was always seeking the right form of artistic expression for herself. She began sculpting after years of figurative drawing and painting (in fact, she has been drawing since the age of five and was trained in classical painting). But whereas she experienced stormy emotions, pain, and self-criticism as a painter, sculpting brought her a sense of ease and harmony.
At the age of 32, she began to pursue greater movement in her artwork and fell in love with sculpture. During the years in which she engaged in painting as well as the sculpting of bronze works ranging from figurative to abstract pieces, she started to feel that the dual media were transforming her into two separate artists. Painting brought out her existential angst, as expressed in the harsh subject matter of her expressionistic figurative oil paintings; fantastic biblical images, an intensive palette of saturated colors, and dense composition all reflected the "serious" aspect of her personality. Sculpting, by contrast, brought her a sense of lightness and harmony, continuous flow, sensuality, and happiness. Torn between painting and sculpture, she longed for a synthesis between the two, a personal language that would bridge the contradictory aspects of her personality. Her study of different art forms led her to reliefs made of painted wood and aluminum, which gradually turned into painted sculptures. Soon after, she began sculpting linear figures resembling the early wire figures of Alexander Calder. A painterly line was incorporated into a "drawing in space" using wire.


The line took the form of three-dimensional shapes that were then cast in bronze. The surface of the bronze sculpture was painted, using a bold scheme of colors and patterns. The result of the new product was a continuous inquiry and confrontation between the sculptural space and the painted surface, a dialogue between painting and sculpture, flatness and space, movement and stability.
Dorit's creative process embraces three separate disciplines: drawing in space, sculpting, and painting. The form created in sculpture is then questioned and deconstructed via the painting. The rhythm created by the changing stripes and patterns segments the flow and continuity of the linear structure. The ongoing dialogue and exploration of the personal artistic language that Dorit has formulated is "tested" on different images.
Dorit has been influenced over the years by such artists as Gaudi, Klimt and Niki de Saint Phalle as well as American pop artists and modern sculptors. From the moment she decided to let go of the rigid subject matter and technique she had used in her painting, shedding her old self and approaching life from a positive perspective, she was able to get in touch with her childlike qualities, her creative exuberance, and her sense of humor. Chinese philosophy also broadened her awareness of the great influence that objects have on our immediate environments. Creating sculptures that make the viewer smile and feel happy and comfortable has become a sincere objective of Levinstein's art.
In the words of David Smith: "Art is not didactic. It is not final: It is always waiting for the projection of the viewer's perceptive powers. Even from the creator's position, the work represents a segment of his life, based on the history of his previous works, awaiting the continuity of the works to follow. In a sense, a work of art is never finished."1 Indeed, Dorit's current sculptures are constantly evolving, posing new artistic questions that serve as a catalyst for further experimentation, variation, and development in her work.
This work interests you ?
Do not hesitate to contact us for any inquiries.